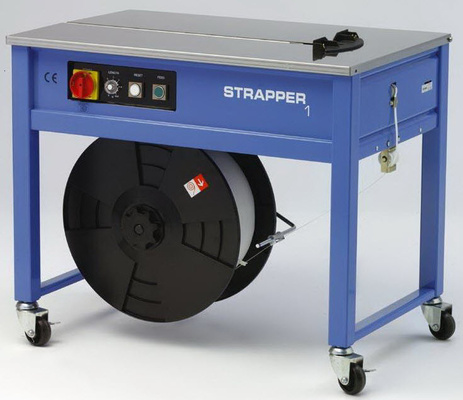 Strapping machines are mainly used in the packaging and container industry. Eide, which always takes into account the needs of its customers, and who considers that a good presentation is the main letter of introduction of a company, has designed 5 types of industrial electromagnetic clutches, each with its own characteristics:

SEE electromagnetic clutch –> single disc, with inductor core and coil, and compatible with most manufacturers.
SER electromagnetic clutch –> formed by an inductor core and a coil, it is self-supporting and does not need to be mounted on any mechanized surface. It works with a normalized voltage of 24 V.d.c.
NEF pneumatic clutch-brake –> compact unit with pneumatic clutch and antagonistic brake by spring reaction. It is radially fed with compressed air, and has minimal air consumption. The regulation of the air pressure allows to obtain a control over the acceleration time of the machine.
GEF electromagnetic clutch-brake –> the clutch and the brake are mounted inside a casing, which makes it self-supporting. This allows combining up to 17 different versions depending on the desired assembly. Both, in addition, work according to the current they receive.
EFE electromagnetic clutch-brake –> very narrow compact unit with safe and practical response. As a result of its shorter length, it can be installed on cantilevered shafts, providing start-up control with easy installation and safe service.
Contact us for more information on our industrial brakes, torque limiters, industrial clutches and Nil-Union couplings.